Now you should really be noticing a difference! If you've finished last week's exercises, you can now move on to week four.
Week 4
BASIC STRETCH: Towel Stretch (see week one)
BASIC STRETCH: Sumo Stretch (see week one)
WEEK 4 STRETCH: Door Stretch
Find a doorway where the walls on either side are in the same plane and where the door opens away from you, then sit down in front of it with your legs spread.
Using the walls to support your outstretched legs, lower your upper body forward and place your arms on the floor, stretching for 30 seconds while bouncing.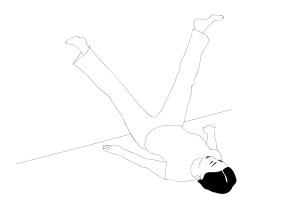 Or, if you don't have a suitable door:
WEEK 4 ALTERNATIVE STRETCH: Frog Stretch
Spread your legs wide with your toes pointing to the side.
Lower your hands to the floor and support your upper body, which will want to tumble forward, stretching for 30 seconds. If you cannot reach the floor with your hands, support your upper body by resting your elbows near your knees.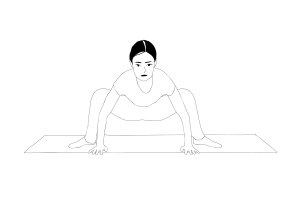 Don't forget to share your journey to doing the splits with us @yellowkitebooks #DoTheSplits!