For four weeks, you'll do three stretches each day: two basic stretches, and a third which changes each week.
Week 1
BASIC STRETCH: Towel Stretch
Loop a hand towel over the underside of one foot, extend your leg (keeping your knee straight) and pull the towel toward your head with both hands.
Pulse the leg toward the chest for 30 seconds. Repeat with the other leg.
DON'T DO THIS:
DO THIS:
BASIC STRETCH: Sumo Stretch
Standing, point your knees out to the side, spread your legs to about twice the width of your shoulders, lower your backside and place your hands on your inner thighs, near your knees.
Pulse up and down in quick, short movements about 20 times.
Next, stretch the groin and back by shifting each shoulder toward the middle in turn, while pushing harder with your hands.
WEEK 1 STRETCH: Inner-Thigh Stretch
Squatting, with your backside slightly off the floor, bend one knee, while stretching out the other leg to the side.
Pulse up and down for 30 seconds. Repeat on the other side.
DON'T DO THIS:
DO THIS: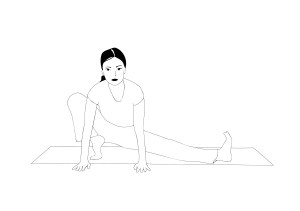 Let us know how you're progressing on @YellowKiteBooks #DoTheSplits