Two Chubby Cubs: Dinner Time – Pre-Order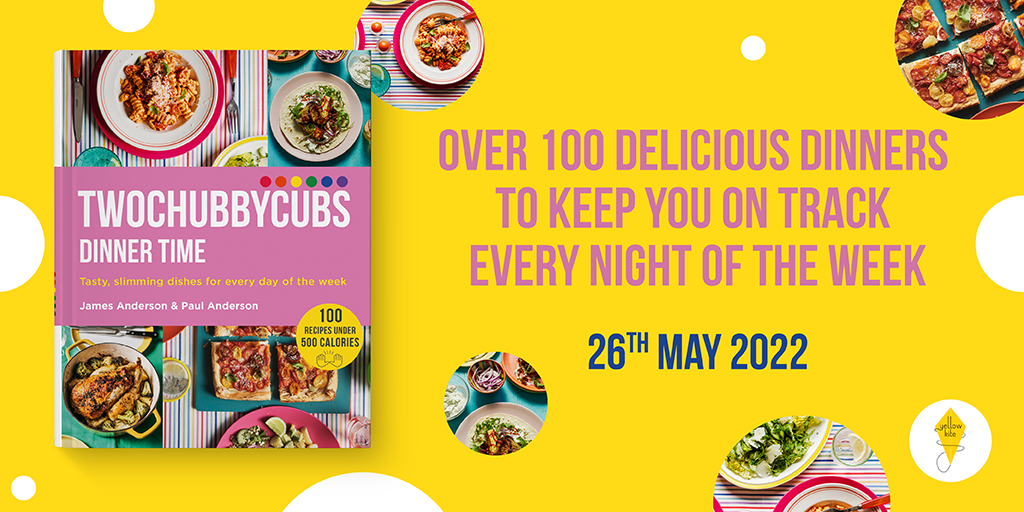 YOUR CHANCE TO WIN SOME BRILLIANT PRIZES!
100+ dinner recipes under 500 calories from The Sunday Times bestselling authors!
Dinner Time is the latest cookbook from the outrageously funny James & Paul, otherwise known as the twochubbycubs, here to arm you with meals that will fill you up throughout the week and keep those taste buds happy, all while keeping you on track with your healthy eating.
These are recipes for everyone: perfect plates for families, friends and meals made for sitting in front of the TV.
And today, we're delighted to share with you your chance to win a host of brilliant prizes, with 3 x first prize winners in with a chance of winning a £100 supermarket voucher, a spice rack, cutlery set, spatula set AND exclusive Cubs recipes and merch each! And 10 x runner up prize winners will be in with a chance of winning a spatula set each. Everyone who pre-orders will get 4 exclusive recipes from the book.
All you have to do to be entered into the giveaway, is pre-order your copy of Two ChubbyCubs Dinner Time from the links below, or any UK retailer.
Submit proof of purchase (a receipt or picture will work) to the form below and that's it!
Open to UK residents only. Entry closes on Wednesday 25th May and winners will be contacted individually.
*Upload your proof of receipt for a copy of Two ChubbyCubs: Dinner Time by James and Paul Anderson to participate in this giveaway offering.
Must be 18 years of age or older at the time of entry. Void where prohibited or restricted by law. No groups, club, or organizations may participate. Limited to one request per IP address. Incomplete forms will not be eligible. Multiple entries from the same email address will be automatically disqualified. Offer ends on Wednesday 25th May 2022.
Pre-order your copy here: